Pastoral Statements
Our Bishops
IN THE SPOTLIGHT
Catholic Diocese of Solwezi Bishop, Rt. Rev. Charles Kasonde has called on all Christians in his diocese to continue contributing towards the Diocesan Levy as a way of making the diocese attain self-sustainability.
Read more...
President Edgar Lungu has acknowledged the role the Church plays in providing health care to the people of Zambia. President Lungu has also praised the Catholic Church for its effort in complimenting government's efforts in the health care provision for years.
Read more...
There are no articles in this category. If subcategories display on this page, they may contain articles.
Laudato Si: On Care For Our Common Home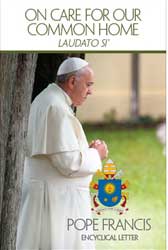 On Care for Our Common Home (Laudato Si') is the new Encyclical written by Pope Francis and  addressed to "every person living on this planet" for an inclusive dialogue about how we are shaping the future of our planet. Pope Francis calls the Church and the world to acknowledge the urgency of our environmental challenges and to join him in embarking on a new path. This encyclical is written with both hope and resolve, looking to our common future with candour and humility.
Subscribe to our Newsletter!